Caravan Lease - A Quick Overview
Published 22 August 2021 by Maddie Barclay
-
If you're looking for a new caravan, but don't have the cash to purchase it outright, a caravan lease could be a great option for you. We'll break down exactly what a caravan lease is and the advantages and drawbacks that come with it. We'll also compare a caravan lease with a loan, so you can decide which caravan finance option suits you best.
What is a caravan lease?
A caravan lease is a finance product where you make regular payments to a company in return for using a caravan for a set period of time. Just like hiring any other product, you won't have any ownership over the vehicle and you'll have to return the caravan at the end of your lease period. Your lease period could be just a weekend, or up to a few months or even years.
A caravan lease can be for any type of caravan product, from a brand new camper van to a second hand RV. 
Advantages of a caravan lease
Less commitment
One of the biggest advantages of a caravan lease is that it is a far smaller commitment than buying a caravan outright or taking out a loan. Because you're not locked into a loan, you'll likely be able to end the lease period early if you decide that a caravan isn't the right move for you. A lease is also a great option if you're only wanting to use a caravan for a short period of time, like for family holiday or weekend getaway.
Try before you buy
If you're tossing up the idea of buying a caravan, but aren't quite sure if it's the right move for you long term, leasing can be a great way to try before you buy. If you end up loving the freedom and flexibility that comes with having a home on wheels, you can choose to buy a caravan after your lease is up. If you want to finance that caravan with a loan, then Driva can help!
Drawbacks of a caravan lease
You won't end up owning the caravan
If you're eventually wanting to own a caravan, a lease agreement might not be the best arrangement for you, because, unlike a loan, you won't end up owning the caravan at the end of the lease period. This might be an important financial consideration for you if your long term goal is to own your caravan.
It may not suit all your requirements and needs
One of the major drawbacks of leasing a caravan, as opposed to buying one, is that it likely won't come with all of the features that you're looking for to truly make your caravan a home. Whether this is the configuration of the caravan or additional features like solar panels and bike racks, you might find that leasing a caravan doesn't have all the perks of owning one.   
Caravan lease vs caravan loan
A caravan lease can be a great option for many customers, but if you're looking into caravans you're probably going to want to consider all of your options - and one of these is a caravan loan. Unlike with a lease, a caravan loan means that the monthly payments you're making will end up with you owning the caravan.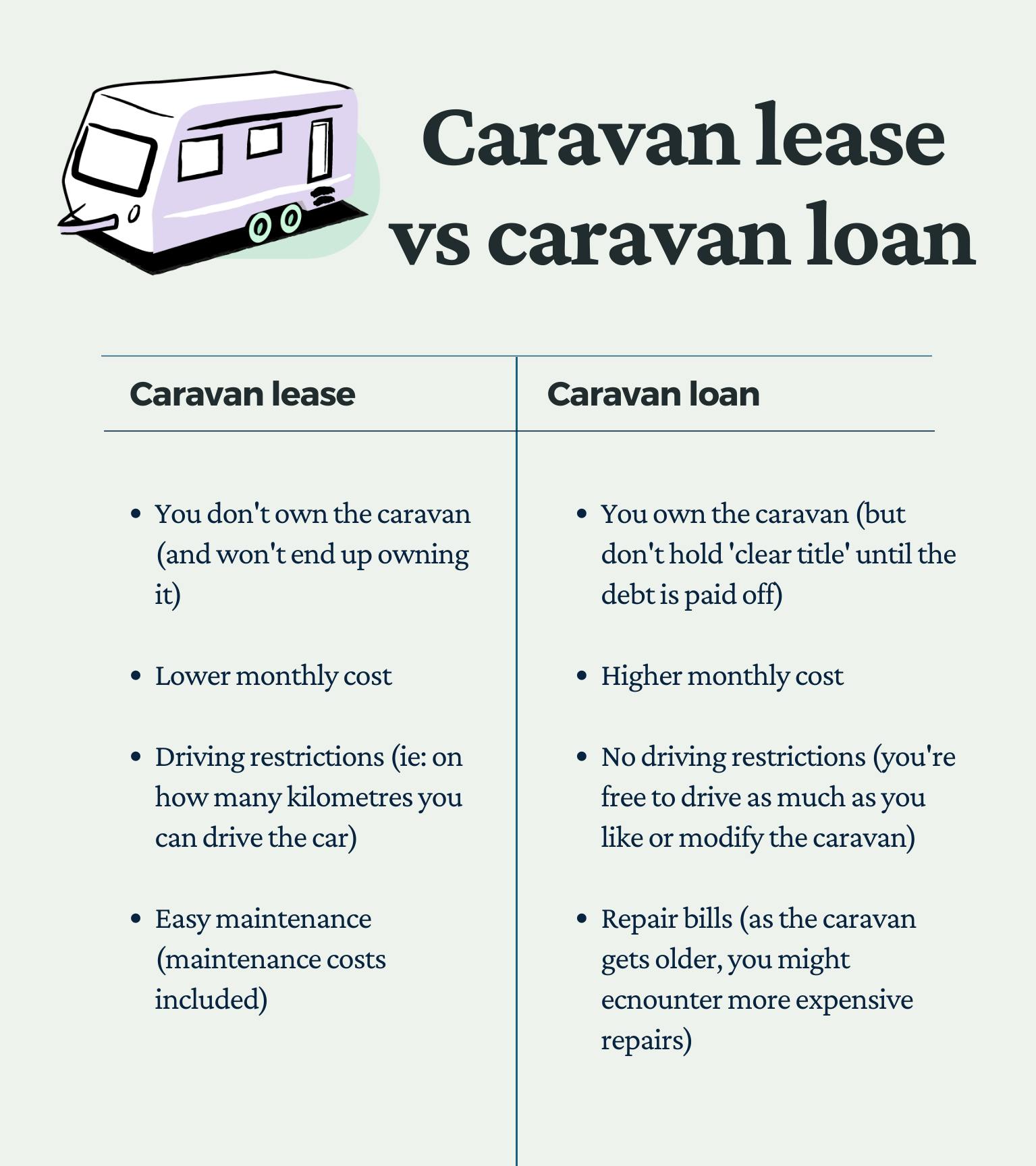 All of the interest rates that Driva offers are fixed rates, regardless of whether your caravan loan is secured or unsecured. This means that the amount you'll pay each month will stay the same over the entire duration of the loan, making it easy to budget and plan for the future. 
Get your lowest rate from 30+ lenders
Which finance option should I choose?
If you're struggling to decide whether a caravan lease or loan is a better option for you, there are a number of questions that you should ask yourself:
How often am I going to use my caravan?
How much am I willing to pay per month?
How long do I want to have a caravan for?
What type of caravan do I want? And for what purpose?

Summing up
Getting a caravan lease can be a great option for many customers and businesses who aren't quite ready to commit to owning a caravan and are looking to 'try before you buy'. However, if you're more interested in getting a caravan loan so that you can end up owning your caravan at the end of the repayment period, Driva can help!
To get started with a caravan loan, you'll just need to tell us a few details about you and the caravan you're looking to buy, and we'll be able to give you personalised rates from our panel of over 30 lenders - and all without affecting your credit score. Calculate how much you could save in just a few minutes and get started today. Once you've received your personalised rates and decided which lender you want to go with, the approval process normally takes between 2 hours and 2 days depending on the lender. 
If you've got any questions about buying a caravan, our friendly and knowledgeable team is happy to help, so feel free to get in touch! Give us a call on 1300 755 494 or email us at hello@driva.com.au.